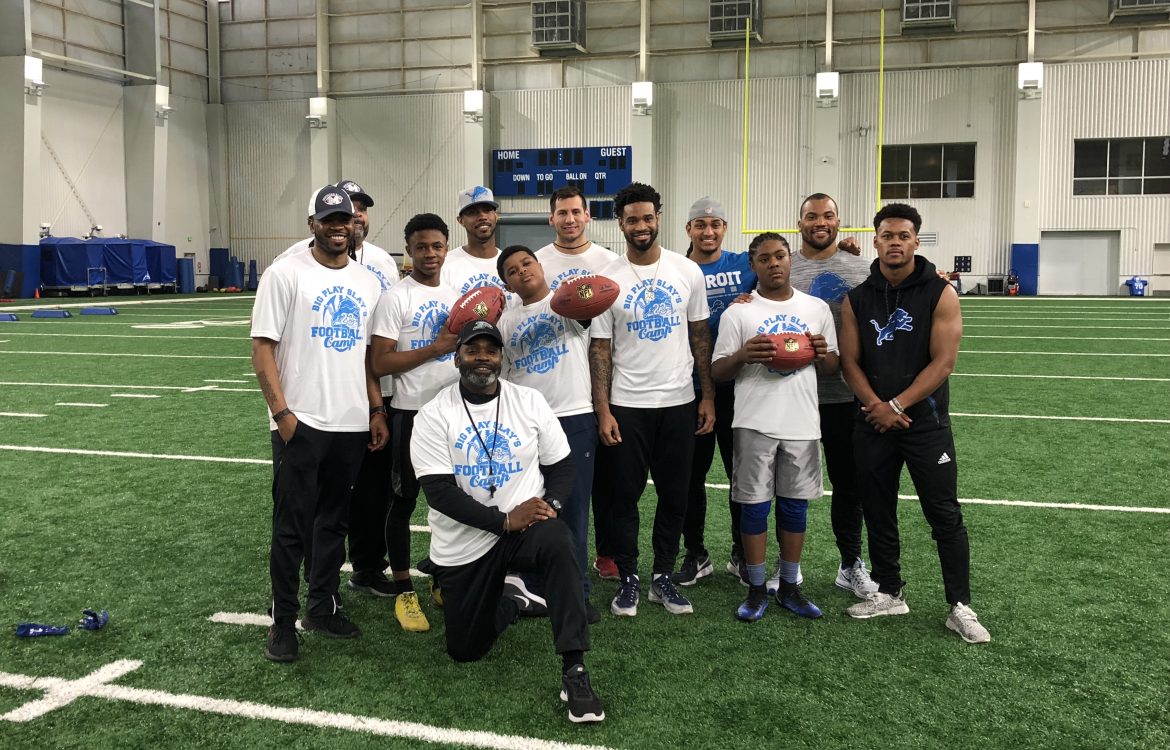 Darius Slay Football Camp
On Saturday April 14th, Detroit PAL football kids from different teams got the chance to participate in Detroit Lion's cornerback, Darius Slay's Big Play Slay camp.  The camp was held in Allen Park at the Lions practice facility.  About sixty PAL kids were on hand to enjoy a day of football training.  Joining Slay at the camp were other Lions players and coaches.  The PAL kids were excited to be a part of this camp and to work with the Lions players and coaches.  The camp started off with the PAL kids doing a series of exercises that the Lions do to get them loose and get ready for the day.  After the kids finished the exercises they broke off into groups and went to different stations led by the Lions staff.  The stations consisted of quarterback drills, receiver and safety drills, running back drills and linemen drills.
Darius Slay walked around and observed how everything was going at his camp.  "This is a great opportunity for the kids," said Slay.  "I wish I had something like this growing up when I was their age."  Throughout the camp, the kids were receiving in-depth coaching from the staff and the staff was open to answer any questions that the kids had.  During the camp when the kids were participating in the 3 on 3 drills, the Lions staff hyped the kids up and got them excited.  It was a sight to see as they kids were laughing and having a good time with the Lions players and coaches.  "This is what it's all about," said Slay about the camp.  "We want to make this an enjoyable experience for the kids."
The camp ran from 10 a.m. to 1 p.m. and towards the end of the camp, the kids were able to participate in different competitions to win a signed Darius Slay NFL football.  The competitions were: the fastest man, the longest ball throw and the battle of the linemen.  One winner was selected from each competition and was able to take a picture with Darius Slay and receive the signed football from Slay.  Jamori Biggs, a seventh grader who plays for the Seahawks, said he really enjoyed himself at the camp.  "I had a lot of fun today working with the Lions players and coaching staff," said Biggs.
At the end of the camp the Lions staff thanked the kids for coming out and Darius Slay personally thanked everyone for coming out to his camp.  When the camp ended Slay signed some autographs for the PAL kids and took pictures with them as well.
Article written by Workforce Development staff member: Kevin Moore
Please follow and like us: