Detroit PAL Presents Black History Month's Heroic People
In honor of Black History Month, Detroit PAL has decided to highlight heroic people throughout sports history who made an impact both on the field and in society. It is important for our youth to know more about those people before them who helped paved the way and get them to where they are now.
We will choose one to two athletes from each professional sport and highlight and talk about the impact they had while they were playing.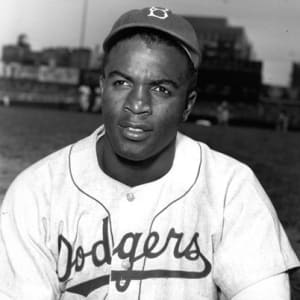 Baseball – Jackie Robinson
To kick off our Black History Month's Heroic People, we want to highlight Jackie Robinson. Robinson died on October 24, 1972 at the age of 53. He would have been 100 years old and this year, Major League Baseball and many more are celebrating his anniversary. Robinson is tabbed as the first African American to play in the major leagues. He made his debut and broke the baseball color line on April 15, 1947 when the Brooklyn Dodgers started him at first base.
Robinson was the first to pave the way for African Americans playing baseball in the majors. When people of color saw the success that Robinson had, it boosted their confidence and allowed other African Americans to play in the majors afterwards. Robinson's name is still relevant to this day. He is the only player to have his number 42 retired by all 30 major league baseball teams.
With the impact that Robinson made on the game and in society, his legacy will always be remembered. On April 15th, Major League Baseball commemorates and honors the Hall of Famer with Jackie Robinson Day. On this day, teams where the number 42 to pay respect to a baseball legend. Robinson has forever changed the outlook on African Americans playing baseball.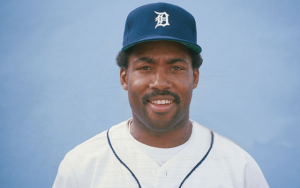 Baseball- Chet Lemon
Our next athlete we are highlighting for our Black History Month's Heroic People is Chet Lemon. Lemon was a baseball player and he played in the major leagues for 16 seasons for the Chicago White Sox and the Detroit Tigers. Lemon played for the Tigers from 1982 to 1990. During that time, he was an all-star and was the starting center fielder for the 1984 World Series, who some people call the best team in franchise history.
Lemon was one of the best players during his stint with the Tigers. He was a defensive specialist and one of the best center fielders in baseball from 1977 to 1987. For young African American kids to see a professional athlete play for their hometown team, it meant a lot; especially in a city where baseball is not as big as other sports. The line of African American baseball players didn't stop after Jackie Robinson; it continued with players like Chet Lemon who continued to pave the way for young African American baseball players today.
When Lemon was done playing, he continued to be a positive impact in the game of baseball. He created the Chet Lemon Baseball School in Florida in 1993. He also coached AAU and high school baseball as well in Florida. Thank you Chet for the time you have sacrificed to give back to youth and spreading your knowledge about the game of baseball.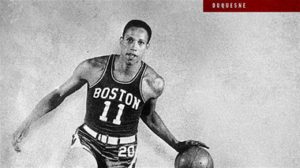 Basketball – Charles "Chuck" Cooper
Most people are aware that Jackie Robinson was the first African American to play in the major leagues, but most are not aware of who the first African American to play in the NBA was. Charles "Chuck" Cooper, along with two other African Americans (Nat "Sweetwater" Clifton and Earl Lloyd) were the first African Americans to play in the NBA in 1950. Cooper also became the first African American to be drafted by a NBA team, which was the Boston Celtics in the 1950 NBA draft.
Cooper was from Pittsburgh, Pennsylvania and attended West Virginia State College (now West Virginia University) where he played basketball for a semester. His playing days at West Virginia State were cut short because he was drafted into the US Navy to serve in World War II. After completing his service, Cooper enrolled at Duquesne University where he played for four years. Cooper played seven season in the NBA with the Boston Celtics, Milwaukee Hawks and the Fort Wayne Pistons. After his playing days, he earned a Master's degree in Social Work from the University of Minnesota and returned back to Pittsburgh to work for the city's school board and became the first black department head. He was the director for Parks and Recreation.
Cooper suffered from liver cancer and died in 1984 at the age of 57. African American basketball players from NBA down to the youth can thank Cooper for being a part of the first wave of black NBA players and help paving the way.
Basketball WNBA – Sheryl Swoopes
In this feature we switch things over to womens' sports and turn to the WNBA. Sheryl Swoopes was the first player that the WNBA; signed in 1997. During her WNBA stint, she won four WNBA championships, was a six time WNBA all-star, multiple ALL-WNBA First and Second Team recognitions, Defensive Player of the Year three times, a member of the All-Defensive Team twice, a three-time WNBA MVP, two-time scoring champion, and a two-time steals leader. The list goes on and on!
Swoopes also received six gold medals while representing Team USA in international play. Her success started before she played in the WNBA. Swoopes was an NCAA national champion at Texas Tech in 1993. Swoopes has been a winner her whole life. She played in the WNBA for 12 seasons playing for the Houston Comets, Seattle Storm, and the Tulsa Shock and she is one of ten WNBA players to have won a WNBA championship, a NCAA championship and an Olympic Gold Medal. She also played overseas in addition to the WNBA.
Swoopes still is involved in basketball. She currently is the assistant coach for the women's basketball team at her alma mater Texas Tech. She was elected to the Naismith Memorial Basketball Hall of Fame in 2016. She allowed all females, not just African American females, to be successful in the sport of basketball and not just making it a man's sport.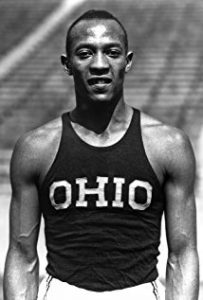 Track and Field- Jesse Owens
Jesse Owens is arguably one of the most memorable names in Track and Field. Owens was a four-time Olympic gold medalists in the 1936 games in Berlin, Germany. The events that Owens won gold in were the 100 meters, 200 meters, long jump, and the 4 X 100 meter relay. For Owens to have all that success at the Olympics during that period of time speaks volumes to who he was, not only as an athlete, but as a human being.
Owens faced a lot of adversity, being an African American track athlete, during his days, but he did not let that stop him from being the great athlete that he was. Owens ran track for Ohio State University in 1935 and 1936. On May 25, 1935, Owens did an unthinkable during a Big Ten meet at the University of Michigan. He set three world records and tied a fourth one and did all of that in a span of 45 minutes. He set world records in the long jump, the 220-yard sprint, and the 220-yard low hurdles. Owens tied the world record for the 100-yard dash.
Owens achieved so much success from track and field that he received national recognition and it came to a point where everyone knew who Jesse Owens was, especially after his performance at the 1936 Olympics. Since racism was so prominent when Owens was running, he had difficulty trying to compete in races and other events after the Olympics. Owens did a lot of traveling and speaking engagements after his track career. In 1965, he was hired as a running instructor for Spring Training for the New York Mets. Owens died at the age of 66 on March 31, 1980. His legacy still lives today even though he passed away.
In 1981, USA Track and Field created the Jesse Owens Award, which is given yearly to the country's top track and field athlete. Two years later he was a part of the inaugural class of the 1983 U.S. Olympic Hall of Fame. In 2001, Owens alma mater, Ohio State University dedicated Jesse Owens Memorial Stadium for track and field events and there is a sculpture of Owens in the entrance of the Ohio Stadium. As you can see, Owens has been honored in many ways, from past to present.
On February 19, 2016, a feature film titled Race came to the big screen across the world. This movie was about Jesse Owes' life and his upbringing. Owens impacted a lot of people and a lot of track athletes still look up to Owens till this day. He made sure that he was going to leave a legacy here and he did just that.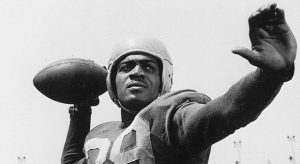 Football – Kenny Washington
Some people thought that Kenny Washington could be one of the first African American's to play in the major leagues. But Washington had a different path. He was the first African American to sign contract with a NFL team in the modern era. Washington was born in Los Angeles, California. He was a star in both football and baseball during his high school days. After high school, Washington attended UCLA where he played baseball and football.
In baseball, Washington was considered to be a better player than his teammate, Jackie Robinson. In football, he was one of four African Americans on the team along with Woody Strode, Jackie Robinson and Ray Bartlett. Washington played tailback and defensive back for UCLA and he was the first consensus All-American in the history of the school's program in 1939.
After graduating from UCLA, the Chicago Bears expressed interest in Washington, but they were unable to convince the league to permit integration. So instead of playing in the NFL after college, Washington coached football and joined the LAPD. Washington did play football in the Pacific Coast Professional Football League for the Hollywood Bears from 1940 to 1945. He was the league's highest paid player. Washington's shot of playing in the NFL would finally come. The Los Angeles Rams, who moved from Cleveland would sign Washington to a contract on March 21, 1946. He would play for the Rams for three seasons and in his second season he led the league in yards per carry.
Though Washington only played for three seasons in the NFL, he helped break the stigma that whites and blacks could not play a violent sport without any issues. He died on June 24, 1971 and his legacy still lives on in the city of Los Angeles, where we was loved by so many people.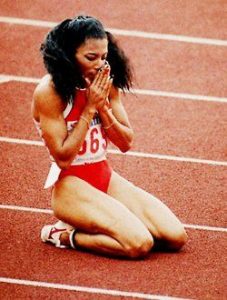 Track and Field – Florence Griffith Joyner (Flo Jo)
Flo Jo as most people call her is considered to be one of the fastest women of all-time. The records that she set in 1988 in the 100 meter and 200 meter still stand till this day. Joyner attended California State University, Northridge, and the University of California, Los Angeles. There she was a member of the track and field team. Joyner qualified for the 100 meters at the 1980 U.S. Olympics, but due to the U.S. boycott, she did not compete. Three years later she received her bachelor's degree in psychology from UCLA.
A year later, Joyner made her Olympic debut and received a silver medal. In the 1988 Olympic trials, that is when history was made. Joyner set a new world record in the 100 m. Her time of 10.49 was the fastest ever recorded by a female runner. She set the American record in the 200 m with a time of 21.77 seconds at the trials as well. At the 1988 Summer Olympics, Joyner stole the show, she won three gold medals and one silver. Joyner set the world record in the 200m with a time of 21.56 in the semi-finals and then she broke that record in the finals running a 21.34.
In February of 1989, Joyner announced her retirement from racing. She wanted to focus on her new business opportunities. All of her success from the 1988 Summer Olympics had opened the door for her. She earned millions of dollars from endorsement deals; mostly in Japan. She also helped design the basketball uniforms for the Indiana Pacers in 1989. Joyner attempted to make a comeback to the track in 1996, her reason was that she wanted to set the world record in the 400m race, since she already set the records for the 100m and the 200m. But tendinitis in her right knee ending her hopes of setting another world record.
"Flo Jo" will always be remembered for her running style and her track fashion. She started a trend in the track and field world and she was a positive role model to female athletes all over. Joyner died in her sleep on September 21, 1998 at her home in California at the age of 38.  Her legacy will always be remembered throughout track and field.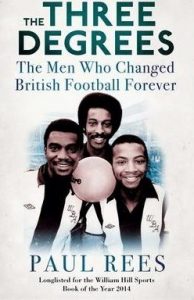 British Football – The Three Degrees
These three black men changed the perception for British Football: Cyrille Regis, Laurie Cunningham and Brendon Batson. If you are not familiar with those names, you will be after reading this. Soccer is very popular in other countries, especially England. They love their soccer as much as we love our football.
In the 1978-1979 football season, the Regis' club West Bromwich Albion, a small club from the West Midlands, became the first British football team to field three black players. These three black men, who are mentioned earlier in this article, faced a lot of adversity and racial tension was very high during that time in the United Kingdom. But the racial tension or the adversity did not stop Cyrille, Laurie and Brendon from doing what they loved, and that was playing soccer!
The courage that these three men had to go out there every single day speaks volume to who they were as human beings. They did not let the color of their skin have an effect on what they wanted to do and they did not let anyone stop them either.
There is a book that was published on February 5, 2015 titled The Three Degrees: The Men Who Changed British Football Forever by Paul Rees. This book goes deeper into the story of the three men and how they constantly faced adversity while they were playing soccer. What happened back in 1978 was much more important than sports, it was about the society and world that we live in.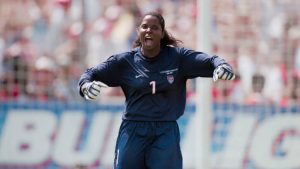 Soccer- Briana Scurry
Briana Scurry is a household name in women's soccer. On August 3, 2017 she was the first black woman and the first goalkeeper to be elected to the National Soccer Hall of Fame. Scurry was born and raised in Minneapolis, Minnesota and was a standout in soccer. Though Scurry ended up being a decorated soccer player, her first true love was basketball.
In college, she played soccer all four years at the University of Massachusetts Amherst and had a lot of success during her time there. In 1993, she helped her team reach the semifinals of the NCAA Women's Soccer Championships and a regular season and tournament title in the Atlantic 10 conference. Scurry was also named the National Goalkeeper of the Year in 1993 by the Missouri Athletic Club Sports Foundation.
Scurry was a founding member and player of the Women's United Soccer Association. This was the first women's league where the players were paid as professionals. She was the starting goalkeeper for the Atlanta Beat for three seasons and was named the league's Goalkeeper of the Year in 2003.
As a member of the U.S. National soccer team, Scurry won a gold-medal at the 1996 Olympic Games in Atlanta. Her last soccer match was on November 5, 2008 against the Korea Republic. Scurry's success has paved the way for African American women playing soccer. Scurry has also served as a general manager, a sports commentator and currently an assistant coaching, all within soccer. She is continuing to be an impact on the field even though her playing days are done.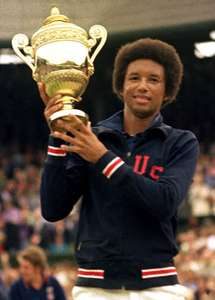 Tennis – Arthur Ashe
One of the greatest tennis players of all-time. His name is Arthur Ashe. Ashe has not only impacted the African American community, but he has also had an impact on the tennis community as a whole. On June 20, 1993 Ashe was awarded the Presidential Medal of Freedom by United States President Bill Clinton. Born in Richmond, Virginia, Ashe was the first black player ever to be selected to the United States Davis Cup Team and he is the only black male to win the singles title at Wimbledon, the U.S. Open and the Australian Open.
Ashe first started playing tennis at the age of seven and by his hard work and dedication, he became a talented tennis player. Growing up in Virginia, Ashe faced a lot of racial tension. In 1960, Ashe could not compete against white youths in Richmond during the school year. He also could not use the city's indoor courts that were closed to black players. That did not stop Ashe from still putting the work in. In 1963, he became the first African-American to win the National Junior Indoor tennis title. That success continued in college for Ashe, he won both the NCAA singles title and doubles title at UCLA.
This amazing tennis player would go on to receive many more honors and awards throughout his professional career. After undergoing heart surgery in 1979, Ashe officially retired from the game of tennis. Ashe published a book in 1988 titled A Hard Road to Glory: A History of the African-American Athlete and he was an active civil rights supporter. On June 20, 1993 Ashe was awarded the Presidential Medal of Freedom by United States President Bill Clinton. Ashe passed away from AIDS-related pneumonia at New York Hospital at the age of 49. Ashe will forever be remembered not only in the tennis community but the world community.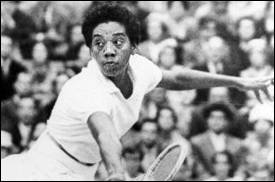 Tennis & Golf – Althea Gibson
Like Arthur Ashe, Althea Gibson had a lot of success in tennis. Not only did Gibson excel in tennis, but she did in golf as well. In 1956, she became the first African American to win a Grand Slam title and in 1960, became the first black player to compete on the Women's Professional Golf Tour. She won a total of 11 Grand Slam tournaments and she was inducted to both the International Tennis Hall of Fame and the International Women's Sports Hall of Fame. Gibson was born on August 25, 1927 in South Carolina. She started off playing table tennis at a young age and quickly became one of the top kids in her area.
In 1941 Gibson transitioned to tennis and entered into her first tournament, which she won. Following this would be more championships and more recognition for Gibson. She received numerous Grand Slam singles and doubles titles throughout her career. Gibson retired from amateur tennis in 1958. Gibson did compete professionally in golf and in 1964 at the age of 37, she became the first African-American woman to join the Ladies Professional Golf Association (LPGA).
Racial discrimination was an issue for Gibson as many hotels did not let blacks stay there. It was a tough ride for Gibson. She would break multiple course records during individual rounds in several tournaments. She retired from golf in 1978. Gibson passed away on September 28, 2003 at the age of 76. She is one of the most notable female athletes in sports history and she left a legacy that people will always remember.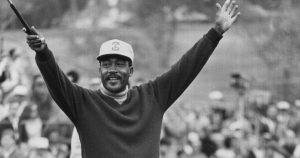 Golf – Charlie Sifford
Charlie Sifford wasn't just another golfer. He was the first African American to play on the esteemed PGA Tour. He also won numerous events, the Greater Hartford Open in 1967 and the Los Angeles Open in 1969. He was a six-time United Golf Association's National Negro Open winner and he won the PGA Seniors' Championships in 1975.
Sifford was born in Charlotte, North Carolina and he became involved with golf as a caddy at the age of 13. Sifford began golfing professionally in 1948, competing in tournaments that other black golfers organized themselves, since they couldn't compete in other tournaments due to racial discrimination.
Due to his contribution in golf over his career, Sifford received numerous awards throughout his life. In 2004, he became the first African American inducted in the World Golf Hall of Fame. Along with other numerous awards, perhaps the most prestigious award that Sifford received was the Presidential Medal of Freedom, awarded to him by Barack Obama. The following year Sifford passed away at the age of 92, but he was one of the firsts to break the wave of black golfers competing at a high level.
This page was created and written by Workforce Development employee: Kevin Moore