Jun 17th 2020
Werner Blakely Jr. addresses PAL youth
His name is Werner Blakely Jr. and the excitement around Detroit and nationally is him being selected b ...
Learn More
Jun 03rd 2020
Detroit PAL Football Announcement
Due to the COVID-19 Global Pandemic an ...Learn More
May 11th 2020
Resilience Stories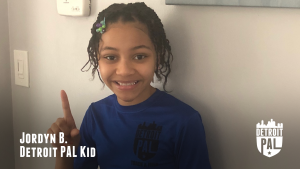 Learn More
May 07th 2020
Corporal Chenetta Pasley
"The Detroit Police Department and myself personally, as well as many others, have definitely been negatively impacted by the Covid-19 outbreak. ...
Learn More
Apr 19th 2020
Brandon Graham Donates $5,000 to Detroit PAL
We'll get through this TOGETHER! Please watch this important message from Philadelphia Eagles Defensive End, Super Bowl Champion, ...
Learn More
Apr 19th 2020
Keep Your Hands Clean
With Michigan's Stay At Home order in effect it's critical for the safety of ourselves and others to remain at home as much as possible. Staying home ...
Learn More
Apr 06th 2020
Paul W's Caring for Kids Club
Today, Larry Burns and the Children's Foundation has donated $30,000 split in th ...
Learn More
Donate Today!
Your tax-deductible donation allows us to serve our local Detroit communities. Show your support today!