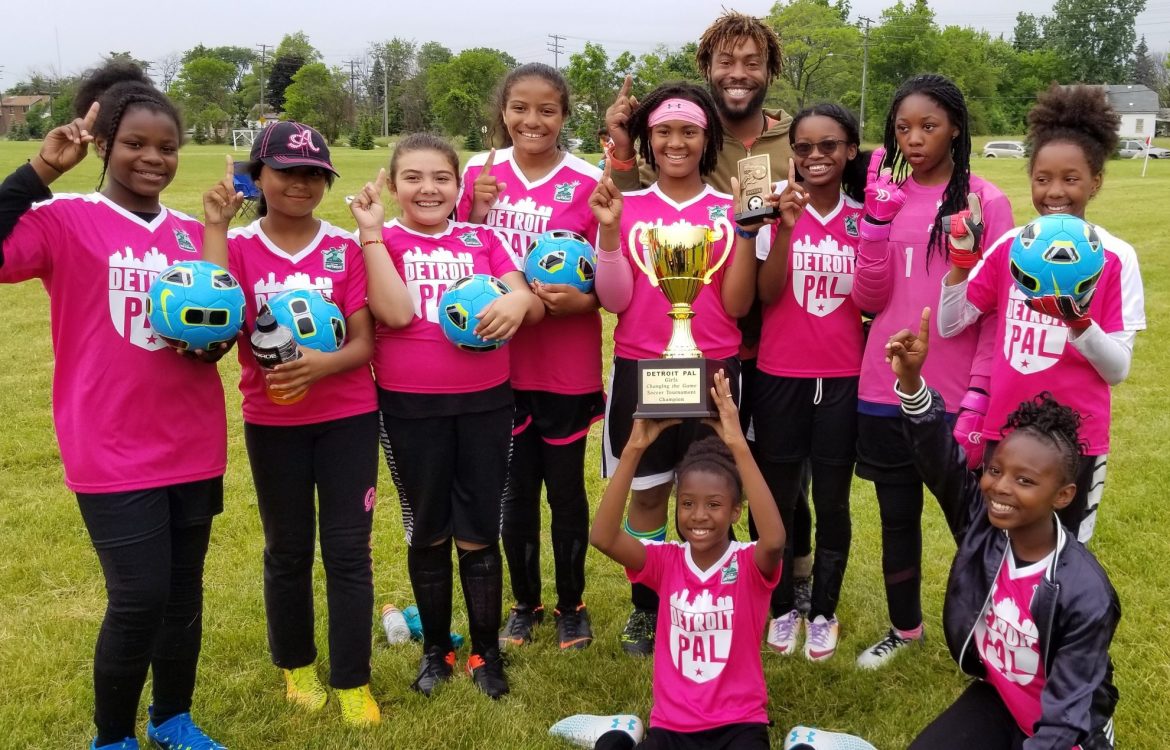 Celebrating National Girls and Women in Sports
Leading Her Forward — Celebrating Girls and Women in Sports
On Wednesday, February 6, 2019, the country celebrated National Girls and Women In Sports Day. This year is the 33rd anniversary of the event, and it is a day that we will be celebrating for more than just a day at Detroit PAL!
Each year the National Girls and Women In Sports Day Organization selects a theme to embody the goals and emphasis of the day. This year the theme is: Lead Her Forward! The National Girls and Women in Sports Day Organization says this theme is chosen "to honor the ways that sports push girls and women to achieve excellence and realize their boundless potential."
National Girls and Women in Sports Day History
National Girls and Women in Sports Day (NGWSD) began in 1987 in America's Capital to recognize the promise in women's sports and recognize elite female athletes. For over thirty years, this celebration has encouraged and empowered girls to get out, get moving, and get involved in athletics! The benefits of girls and women getting active include a surge in confidence, strength, and character which allows growth academically, professionally, and personally.
One of the elite female athletes that is recognized annually on NGWSD is Flo Hyman, an Olympic Volleyball Player. Hyman saw great success in her life as an empowered individual in women's sports who was quick to give the credit to her team rather than take on individual glory. Her grace and integrity earned her immense respect from the athletic world. Hyman was taken at a young age after collapsing during a volleyball match. This month, we remember Hyman by following her lead to take the courts and fields with passion, and celebrate successes with humility.
Detroit PAL — How We Empower Girls in Sports Every Day
Throughout the month of February, Detroit PAL's female athletes will be filling out cards about why she likes to play sports, why she is a female athlete, and how sports help her develop leadership skills! Our female athletes will then take pictures with their cards and these pictures will be displayed at different Detroit PAL 50th anniversary celebrations throughout the year!
In addition to this activity of showcasing our female athletes, we celebrate girls and women in sports every day with our Girls Changing the Game (GCG) program! The mission of the GCG is "To empower girls through athletic and leadership programming to become strong, healthy, confident women who give back to their community."
The goals of GCG are to increase the number of girls ages 4-19 playing sports and increase the number of quality programs for the girls we currently serve. We hope to see girls make up 37% of our participants in 2019. By 2020, PAL hopes to see females make up 40% of our participants. We also hope to see increased numbers of our trained female coaches and mentors.
Dr. Ramona Cox, an associate athletic director and coordinator of GCG, spoke on why NGWSD and the mission of the GCG are important to her:
"It's important that there's a day that we acknowledge sports is major and how it affects girls and women. But, more needs to be done to reap the benefits of sports: leadership, confidence, and in the classroom. It's important to make sure girls are benefiting in ways that sports have benefited me."
To continue growing GCG, Dr. Cox and her team will be working hard in 2019! The team is actively seeking funds to continue to serve more girls and increase our number of programs we offer. In the next one to two years, Dr. Cox hopes to see: a flag football clinic for girls, a sports sampling summer camp, non-traditional sports opportunities for girls, more girls empowerment workshops, introduce yearly mother – daughter activities, and host a female coaches conference!
We encourage you to join in GCG's mission to make a difference in the lives of Detroit PAL's female athletes. If you wish to support us please visit: https://detroitpal.org/donate and specify that your donation is for the Girls Changing the Game program in the Additional Comments section on the form!
Information about National Girls and Women in Sports Day and Flo Hyman is from National Girls and Women in Sports Day Organization's website: http://ngwsd.org and the International Volleyball Hall of Fame website: http://volleyhall.org
Article written by Workforce Development Staff Member: Hannah Smith
Please follow and like us: