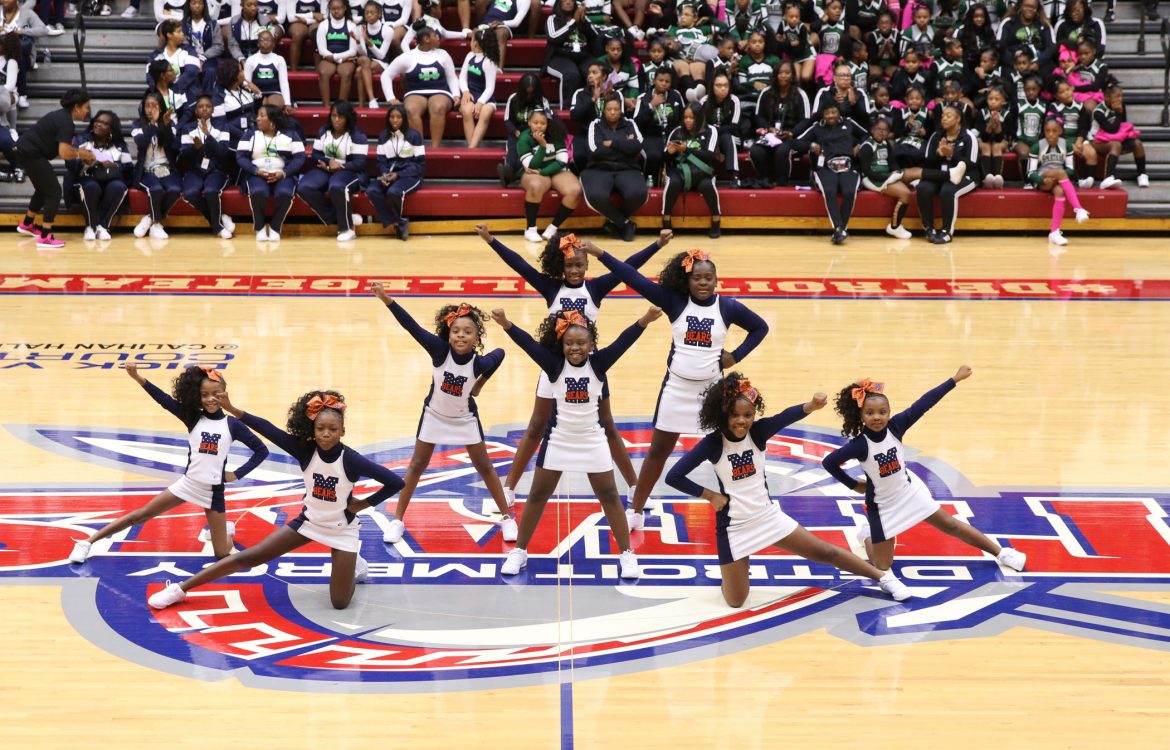 Cheer Competition Results
On Sunday October 21st, girls filled up Calihan Hall on the campus of University of Detroit Mercy early in the morning.  Girls, parents, and coaches were standing in line waiting for the doors to open as they were anxious and excited to kick off the 32nd annual Cheer Competition.  Teams came in on buses to make their grand entrance into the competition.  The cheer competition is a huge event for Detroit PAL and it always brings out a good crowd.  This year was no different, as Calihan Hall was filled with cheerleaders, fans, and coaches as everyone came out to enjoy a great competition.
Teams from different organizations in PAL had the opportunity to participate and showcase their abilities and talents in front of a panel of judges.  These girls, from age 5 to 14, have been waiting for this day since the cheer season began.  It was a hectic week for teams as they were preparing for this day.
All the teams who participated did an amazing job and gave the audience a show to see.  Congratulations to all the teams who participated and received awards at this year's competition.  We can't wait to see you all next year.
A-Team – Level I
1st Place: Eastside Raiders
2nd Place: Detroit Titans
3rd Place: Detroit Seahawks
4th Place: Southfield Ravens
A-Team – Level II
1st Place: Eastside Cowboys
2nd Place: Westside Cubs
3rd Place: Northwest Cougars
4th Place: Eastside Falcons
B-Team – Level I
1st Place: Southfield Ravens
2nd Place: Eastside Raiders
3rd Place: Detroit Seahawks
4th Place: Wolverines
B-Team – Level II
1st Place: Westside Cubs
2nd Place: West 7 Rams
3rd Place: Detroit Spartans
4th Place: Eastside Cowboys
C-Team – Level I
1st Place: Eastside Raiders
2nd Place: Detroit Panthers
3rd Place: Motor City Bears
4th Place: Eastside Falcons
C-Team – Level II
1st Place: Westside Cubs
2nd Place: Detroit Spartans
3rd Place: West 7 Rams
4th Place: Northwest Cougars
D-Team
1st Place: West 7 Rams
2nd Place: Westside Cubs
3rd Place: Motor City Bears
4th Place: Detroit Seahawks & Detroit Spartans
Please follow and like us: