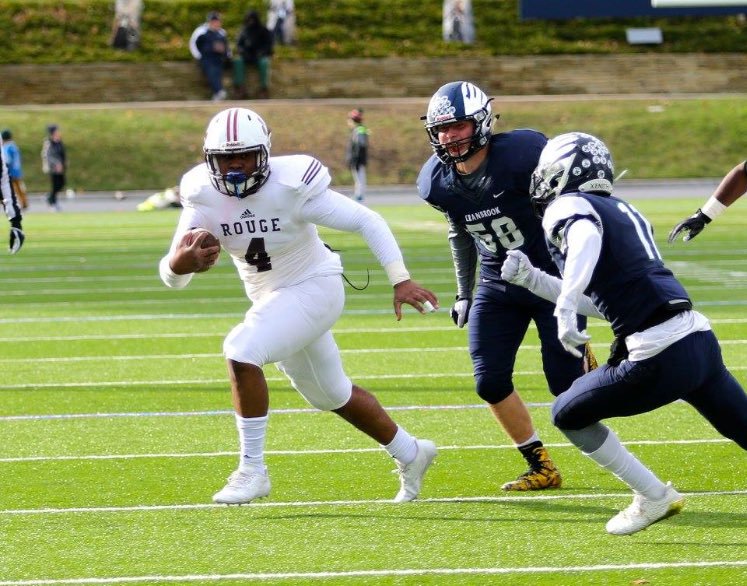 De'Andre Bulley to Morgan State
Detroit PAL and River Rouge Alum, De'Andre Bulley sees model mentor in Morgan State's Tyrone Wheatley. De'Andre played for Detroit PAL on the Southfield Ravens. Taking his talents to River Rouge, where he took off and shined as a player and person.
The Detroit News:
De'Andre Bulley proudly showed off a Morgan State T-shirt during River Rouge's Signing Day ceremony inside the school's auditorium on Wednesday morning.
Bulley, a member of The News Dream Team who rushed for 1,975 yards this past fall to help River Rouge earn its first state championship, will be playing for former Michigan All-American Tyrone Wheatley.
The 6-foot, 240-pound Bulley is hoping Wheatley leads him to a similar path the Wolverine took after his college career when he played 10 years in the NFL, including a 1,000-yard season for the Raiders back in 2000.
Wheatley was a fast, physical back at 6-0 and 235 pounds when he played for the Wolverines where he rushed for 4,178 yards, fifth-best in school history, before being the first-round pick of the Giants in the 1995 NFL Draft.
"Tyrone's a great guy and I know he'll coach me well," Bulley said. "He said he basically saw himself in me. The running backs coach there (Jerome Smith at Morgan State), he coached him at Syracuse. I like their support system because I have the same support system here as they have at Morgan State. It's a family thing, they grow a family and that's what I want to be around."
Bulley had originally committed to Akron prior to his senior season, but as Akron kept losing games and River Rouge kept winning games he decided to de-commit and reopen his recruiting.
It also helped that Bulley will have a familiar face at Morgan State in Detroit Renaissance quarterback Raequan Beal, who signed back in December.
"That's my brother, he knows what's best for me, so me going with him is probably the best decision I made," said Bulley of Beal, who is No. 56 on The News Blue Chip list.
Said Beal: "Morgan State just felt like the perfect fit for me. I just felt like I was at home. They have a great coaching staff and they keep selling every day, every day. They showed me around the whole campus and they didn't sugarcoat how the campus is or how the students are or how I'm going to be coached, just showed how every day would be like for me if I went there and I really enjoyed my visit.
"They told me I would be competing for the starting job, just have to work hard and lead the team and just come in and be prepared."
Beal talked on his relationship with Bulley." That's my guy, told him all about Morgan State," said Beal. "We talk pretty much every day. It's going to be amazing playing with him. In PAL, I played for the Ravens and he played for the Wolverines.
"I was just telling him that it would be great if we played together if we had the chance. Then, recruiting picked up and we had some similar schools and we kept talking, and it was like if the right opportunities come for both us, because it would have to for both of us. I went to Morgan State and it was a great fit for me and then I gave him the feedback of what I thought it was, then he went to go see for himself so it's awesome that he felt the same way."
Article by: David Goricki, The Detroit News
Read more here: https://www.detroitnews.com/story/sports/high-school/2020/02/05/signing-day-notes-river-rouges-bulley-sees-model-mentor-morgan-states-tyrone-wheatley/4674544002/
Please follow and like us: