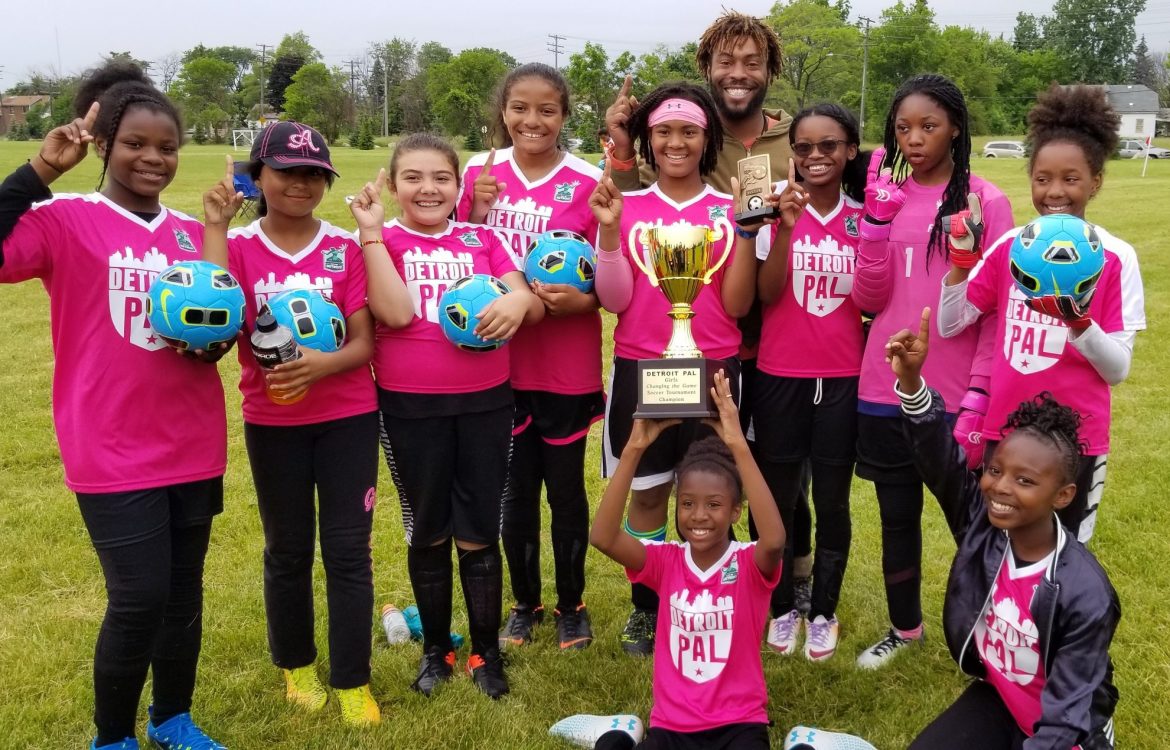 Kick Like a Girl! Soccer Tournament
Detroit PAL is committed to offering increased opportunities for girls in youth sports. The Girls Changing the Game program aims to provide high quality programming for the girls Detroit PAL currently serves and to increase the number of girls that participate in Detroit PAL programs.
Saturday, June 10th marked the first all-girls soccer tournament in Detroit PAL history. The "Kick Like a Girl" soccer tournament consisted of four teams of female PAL participants in 3rd-6th grade.
"The Kick Like a Girl tournament was created to inspire young women to be active, inclusive, and engaging," says Commissioner Senneca Scott.  "The participation of young women in sports is dwindling."
"This tournament is a push to get girls more involved in sports, the community, and an opportunity for them to see other young women trying to accomplish the same things as them," said Scott, "They are not alone in the goals they seek and this tournament can be used as a tool to build young women up and bring them together."
Four teams competed in this inaugural event: FLICS, Chrysler Elementary, Henry Ford Academy, and Hamilton Academy.
Recent research shows that two-thirds of girls fail to get the minimal amount of activity required to maximize health benefits.  Many girls, especially ones that are considered at risk, have a massive amount of barriers that prohibit them from being involved in any sort of physical activity.
"PAL will expand its program to go beyond athletics and build personal confidence, increase self-esteem, prepare girls for high school graduation and encourage college attainment," said Alexandra Gardner, Advancement Manager at Detroit PAL, "PAL will also increase the number of trained female mentors and coaches with a goal of 1,000 by 2020."
PAL will continually seek quality and engaging sports programs that best meet the need of today's young girls with continual evaluation of the state of play regarding female youth.
Congratulations to FLICS who defeated Chrysler 3-1 in the final!
Article written by Workforce Development Staff Member: Jazlyn Lindsay
Please follow and like us: