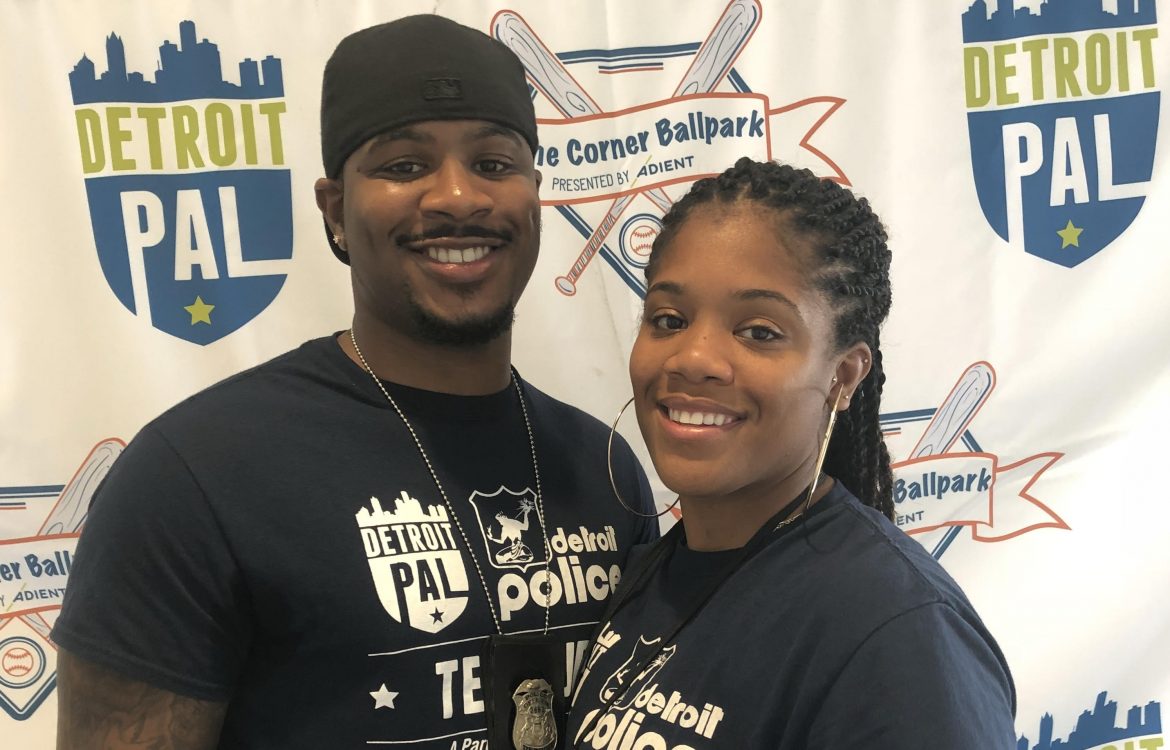 Meet a Team Up Officer: Brittany and Blake Moss
Here at Detroit PAL we have a program called Team Up.  This program is a collaborative effort between Detroit PAL and the Detroit Police Department.  It is designed bridge the gap between police officers and the community.  For the Team Up program, police officers are matched with youth teams to act as a mentor and assistant coach for the season.  The goal of TEAM UP is to improve the quality of the relationships between police officers, kids, and the community.  PAL stands for Police Athletic League and our police officers are very dedicated throughout the program.
Blake and Brittany Moss are brother and sister. In fact, they just so happen to be twins!  Both have been involved with PAL since they were kids.  "My parents had me in PAL when I was a kid. I participated in baseball, basketball and in track," said Blake.  Just like her brother, Brittany started when she was a kid.  "We had older siblings who were involved in PAL," said Brittany.  "We were always the water girl and boy and the bat girl and boy before we actually started playing in PAL."  Brittany played basketball and volleyball and ran track in PAL.
There are a lot of PAL alumni who give back to PAL and the community in different ways, whether through coaching or volunteering.  The police department also has a host of PAL alumni who always want to help give back to the program they grew up playing in.  "I always had the heart to serve and just giving back to the community has been something I wanted to do my whole life," said Blake on why he decided to join the force.  Brittany, on the other hand, didn't want to be a police officer at first.  "Growing up, I did not want to be a police officer," said Brittany.  "I always wanted to go into education and be an educator, but I always wanted to work with people and what better way to work with people than being a police officer."
The officers in the Team Up program have roles throughout the program and Blake and Brittany shared what their roles are.  "My role in the program is to show the kids the way officers are viewed nowadays is not the case," said Blake.  "Our job is to interact with the kids and show them that there are still good police officers out there who care about the community they serve."  One thing that Blake touched on was that they also teach the kids what to do and what not to do in certain situations involving the police, which is very important, especially for the youth.
Brittany really likes how the Team Up program is targeting the youth.  "Social media is really taking over right now and what the kids see as far as law enforcement is not the best," said Brittany.  "I am a mentor in the program and my role as a mentor is to change their viewpoints about law enforcement and let them know that there are bad police officers but, at the same time, there are good ones out here as well."
Not only are these two police officers, but they're humans as well and they want the kids to know that.  Being involved in the Team Up program has allowed Blake and Brittany to learn new things.  "I have learned more about how the children viewed the police," said Blake.  "I had no idea that the kids felt this way, but I can understand why they view the police the way they do now because it was different when I was growing up."  Brittany said that being involved in the program has been very humbling.  "To be able to build trust and have the kids let us in their personal lives is very rewarding," said Brittany.
Coming back to PAL is something Blake and Brittany wanted to do.  They wanted to see the impact they have made on the kids' lives and they enjoy every minute of it.  "Detroit PAL, as I knew growing up, was all about sports," said Brittany,  "But now there is so much more that PAL offers, like the Team Up program, and it's more than sports; these kids are our future."
Blake and Brittany shared their favorite moments so far being involved in the TEAM UP program.  "I would say my favorite moment was when we had the kids for a week and we did different actives and we would talk about different life lessons and at the end of the week we took them to Belle Isle, which was a lot of fun," said Blake.  Brittany said that every day working with PAL is her favorite day.  "If I had to choose a favorite part during the program, I would say the last day of each session because it's very rewarding watching the progress we made throughout the week and the kids at the schools always want us to come back, which I love," said Brittany.
PAL would like to thank Blake and Brittany and the other Team Up officers for taking the time out from their days to spend time with the kids.  We want the youth to have an experience that they never had and with programs like this, we are able to do so!
Article written by Workforce Development Staff Member: Kevin Moore
Please follow and like us: