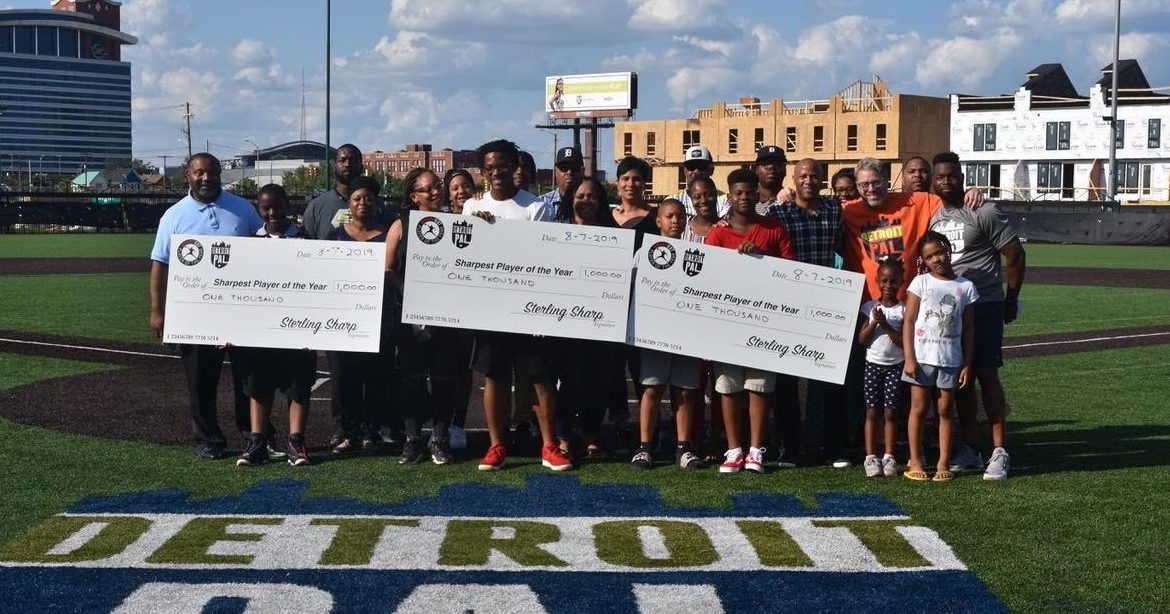 Sharpest Players of the Year
Wednesday, August 7th 2019, will be a day to remember for three young men, as well as Sterling Sharp. The reason why that day is so special is because Lamar Price, Jordan Spencer and Anthony "AJ" Blue were the recipients of the inaugural Sharpest Player of the Year award. Sharp is a professional baseball player for the Washington Nationals. He currently pitches for the Double-A affiliate team, the Harrisburg Senators.
Sterling grew up playing numerous sports in which he excelled highly in. But he grew to love baseball more and more as he became older. He attended North Farmington High School where he played baseball for four years and also was a member of the varsity basketball team. Sharp was drafted out of high school by the Atlanta Braves, but decided to attend Eastern Michigan University. After a year at Eastern, he transferred to Darton State College in Georgia for his sophomore year and then finished out at Drury University in Missouri, his junior year. Sterling was drafted again after his junior year by the Washington Nationals in the 22nd round of the 2016 MLB Draft.
Sterling had the idea of doing something for the youth about a year ago. "Whenever I would see these black professional athletes give back to the community, I told myself I'm going to do that one day," Sterling said. That day finally came for Sterling Sharp. The Sharpest Player of the Year award is to financially support African American youth baseball players in the Detroit area. The criteria for this award are: you must be anywhere from the age of 12-18, must be African American, from the Metro Detroit area, exemplify character and composed with measure success on the field and have overcome hardship to exemplify leadership, involvement, community impact, academic achievement and personal character off the field.
Submissions for the application were due on May 15, 2019. With the help of his parents and his agency, Octagon, Sterling was able to choose three recipients. "I really just wanted to give back to the community and have more representation of African Americans playing baseball in the city," said Sterling about his award.
On August 7th, the three winners were at The Corner Ballpark presented by Adient to receive their award. Youth Development Officer Bryant George held a small meet and greet to introduce Sterling's parents and the three young men who received the award. Family and friends of the award recipients were all gathered to see them receive such a great award. Officer George talked about the benefit of being a police officer and creating partnerships like this.
"Community policing is one of the best forms of policing and it's even better when unity between Detroit PAL, the Police Department and all parties that were involved on behalf of Sterling Sharp," said Officer Bryant. "Our youth and their families were positively impacted because of this partnership."
Lamar Price II, 16, attends the University of Detroit Jesuit High School and will be going into his senior year. Lamar was excited to receive this award. "This award means a lot, I've known Sterling for a couple of years now and for him to select me for this, it means a lot to me and my family," Lamar said. Lamar plans on putting the money towards his senior year of high school and also go to scholarships and help out his parents and grandmother.
Anthony "AJ" Blue, 13, attends University Prep Science & Math Middle School. Anthony was surprised when he found out that he was receiving the award. "I didn't think I was going to get the award, so when I found out that I was a winner, I was in shock," said Anthony. Anthony plans on using the money from the award to get better as a baseball player so he can achieve his dream of playing in the majors one day and helping his parents out.
The last recipient of the award is Jordan Spencer. Spencer, 11, attends Harper Woods Middle School. Spencer talked about what the award meant to him. "This award means that there's still people out here that still care about baseball, and not just basketball or football." Spencer plans to use the money towards baseball funds like equipment and attending different showcases.
Sterling wants the recipients and other youth to know one thing. "Believe in yourself and put the work in," said Sterling on wanting to be successful in sports. "You want to make sure you have a good support system around you and put the work in off the field too."
Sharp's parents and his agent were on hand to present the check to the three recipients and it was a moment that they will never forget. Detroit PAL wants to send a huge thank you to Sterling Sharp for wanting to partner with us and his parents and his agency Octagon for making this all possible. This is a great thing that is being done in our community and it will only get bigger and better in the future.
Article written by Workforce Development Team Member: Kevin Moore
Please follow and like us: