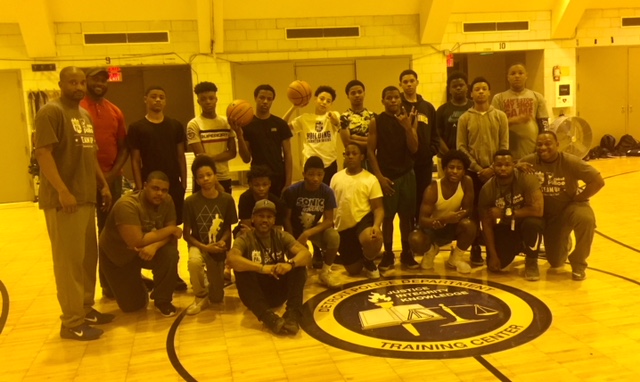 Team Up Lock-In
This spring, the Team Up program at Detroit PAL hosted a lock-in for middle school eighth grade boys, designed to be a leadership workshop.
The theme of the night was 'Locked-in with positivity vs locked up with negativity' and focus of the lock-in was showing young boys across the city of Detroit the consequences of making negative decisions and the horrible reality of incarceration.
The seventeen participants were able to learn about positive values such as education, honesty, hard work, mentoring, love, and so much more with hopes of developing their character as young men. The entire group shared stories around challenges, choices, and outcomes they've all faced in life, which was a great opportunity for the police officers to show the students how similar they are when it comes to dealing with everyday life issues, while expressing to always be a man of their word who makes the right decisions.
Not only did they learn valuable life lessons during the lock-in, but they also had the chance to face off against the officers at basketball!
The Officers believe that this first lock-in was a success and are ecstatic in planning their second annual lock-in for next year. End of program surveys were given to the participants and 100% of the youth surveyed gave the lock-in a 4 or 5 (on a 5 point scale). The students listed the most impactful activities as role playing with officers, learning how to conduct traffic stops, the trust building exercises with officers, storytelling about challenges and choices, and playing basketball against the officers.
Every student marked that they would recommend the lock-in to other students!
Thank you once again to all of the students who participated in the Leadership Workshop Lock-In and we look forward to hosting this important program in 2020.
Please follow and like us: