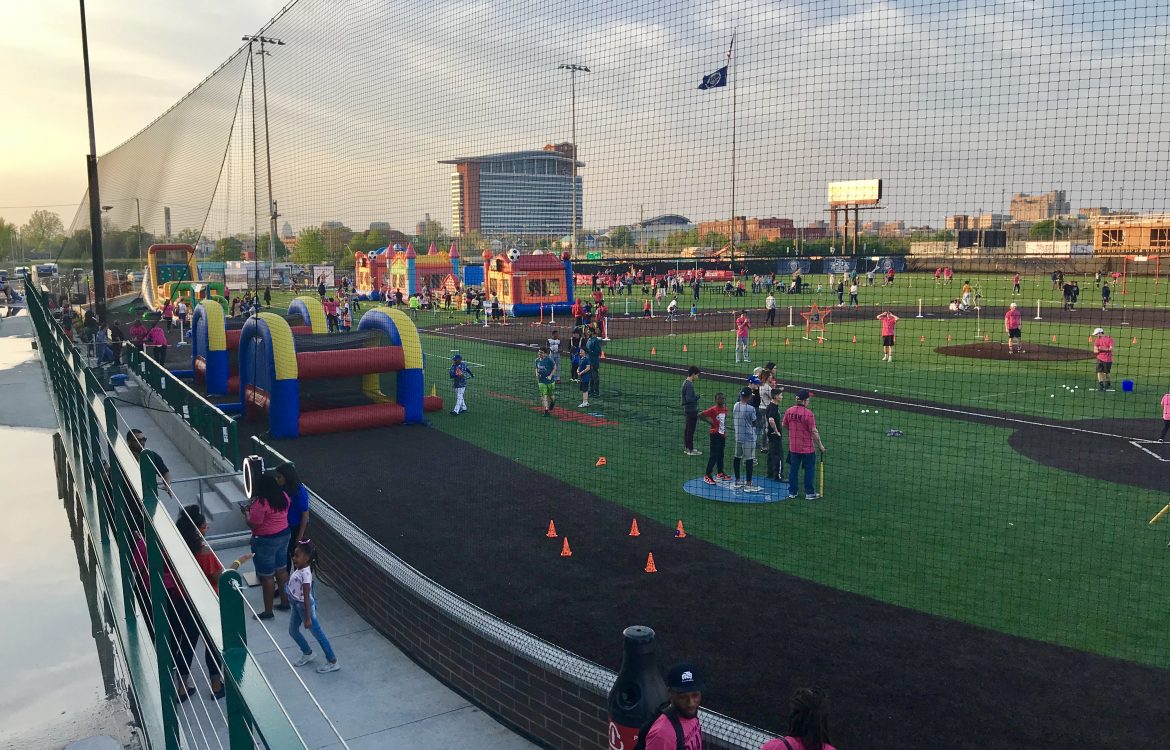 Thank You – 50th Anniversary Celebration
The entire team at Detroit PAL would like to extend a huge THANK YOU to everyone who came out and helped us celebrate our 50th Anniversary on May 18th! We felt so honored to have so many guests at The Corner Ballpark presented by Adient having a great time!
We have so many amazing people and organizations to thank for making this night possible.
First, we would like to thank our Honorary Chairs, Martha F. Ford, Holly & Tom Gores, Kelle & Christopher Ilitch, and Rachel & Nikolai Vitti, and our event co-chairs Maria Duey and Jennifer Granger, for your support of this event from vision to execution.
Thank you to the Detroit Lions, Detroit Pistons, Detroit Red Wings, and Detroit Tigers for supporting this important event from the very start as well! Your dedication to making this event great was so appreciated and all of our guests had a great time at your activity zones. We're so thankful to have great partners like you!
Thank you, Meijer, for supporting this event at the Title Sponsor and helping us raise funds for such an important cause!
We would not have been able to put on such a great event without our team of volunteers! Thank you to all of our volunteers from Detroit PAL, Blue Cross Blue Shield of Michigan, Comcast, Kohl's Cares, Schoolcraft College, MLW Wiffle Ball, and Meijer. 
Thank you to the team at Beaumont Hospital for volunteering as First Aid for the event and the team at Beacon Park for joining us and thank you to Blue Cross Complete and the Corktown Business Association for inviting so many deserving families to this fun event!
Thank you to our amazing chefs from Marrow, Grey Ghost, Folk, Mabel Gray, and Shewolf for cooking up some great dishes and the team at Atwater Brewery for making our Biergarten great!
Thank you to everyone from the Detroit Police Department who came out and made the event a safe and fun place for everyone to enjoy.
Thank you to all of our amazing sponsors, whose support will be instrumental for the Girls Changing the Game program!
Title Sponsor: Meijer
Field Day Champions: DTE Energy Foundation
Biergarten Sponsors: Conway MacKenzie, The Diez Group, Ralph C. Wilson, Jr. Foundation
Chef's Collective Sponsors: Bridgewater Interiors, JAC Products
Fireworks Sponsor: Ford Motor Company Fund
PAL Family Access Sponsors: The Boylan Family, General RV, Seabolt Law Firm
Full Court Press Sponsors: The Battier Take Charge Foundation, Comcast Spotlight, Detroit Lions, DP+, Flex-N-Gate, George Johnson & Company, Signature Associates, TMC
Crackerjack Classic Sponsors: Atwater Brewery, Beaumont Hospital, Blue Cross Blue Shield of Michigan, Blue Cross Complete, Brown & Brown Detroit, Fifth Third Bank, Foley & Lardner, Huron Capital, MJS Packaging, N1 Discovery, NPPN, Skillman Foundation
Corktown Sponsors: Corktown Community Development Fund
We hope everyone had a great time celebrating with us for our 50th Anniversary!
Don't miss your chance to Get in the Game with Detroit PAL: attend a game, volunteer to coach, or make a donation today!
Please follow and like us: