Your Help Is Needed and Welcomed
There are many ways to support the
Detroit PAL
. Interested in one of the many ways you can support PAL youth? Reach out to our Development Team at
development@detroitpal.org
.
Ways to Give
Annual Gift
All gifts of any amount help Detroit PAL youth.
Monthly Giving
Consider making a recurring gift to PAL each month.
Facebook Fundraisers
Have a Facebook Account? If so, you can set up a Facebook Fundraiser by simply visiting Detroit PAL's Facebook page and clicking on fundraise for PAL. Share with friends and family to help raise funds for PAL's sports and youth enrichment programs.
Matching Gifts
Does your company match gifts? If so, this can double your gift to Detroit PAL.
Gifts of Stocks, Bonds, or Mutual Funds
You can contribute your securities to Detroit PAL, receiving the maximum tax deduction for their full market value and avoiding tax on the capital gains.
Bequests/Estate
After taking care of your family and loved ones, you can leave a portion of your estate through your will to Detroit PAL.
Donate in-kind goods such as:
Gift cards
Sports Equipment
Office and computer supplies
Snacks and beverages for PAL practices and games
Theater/sporting event tickets
Mail your tax-deductible contribution directly to:
Detroit PAL
1680 Michigan Avenue
Detroit, MI 48216
Call PAL @ 313 833-1600 to make a contribution over the phone.
Another Way to Give
SHOWDOWN AT FIREFLY ISLAND
PAL's longtime supporter Gerry Boylan and his 11-year-old grandson Eli have written a children's chapter book and they are donating all sales proceeds to Detroit PAL! You'll get their book, Showdown at Firefly Island and the $10 purchase price goes to PAL. The book also has wonderful illustrations by Detroit resident Aaliyah Davidson. It's a great gift for children and grandchildren if you consider a purchase by going to www.gerrytales.com or at Amazon under the title.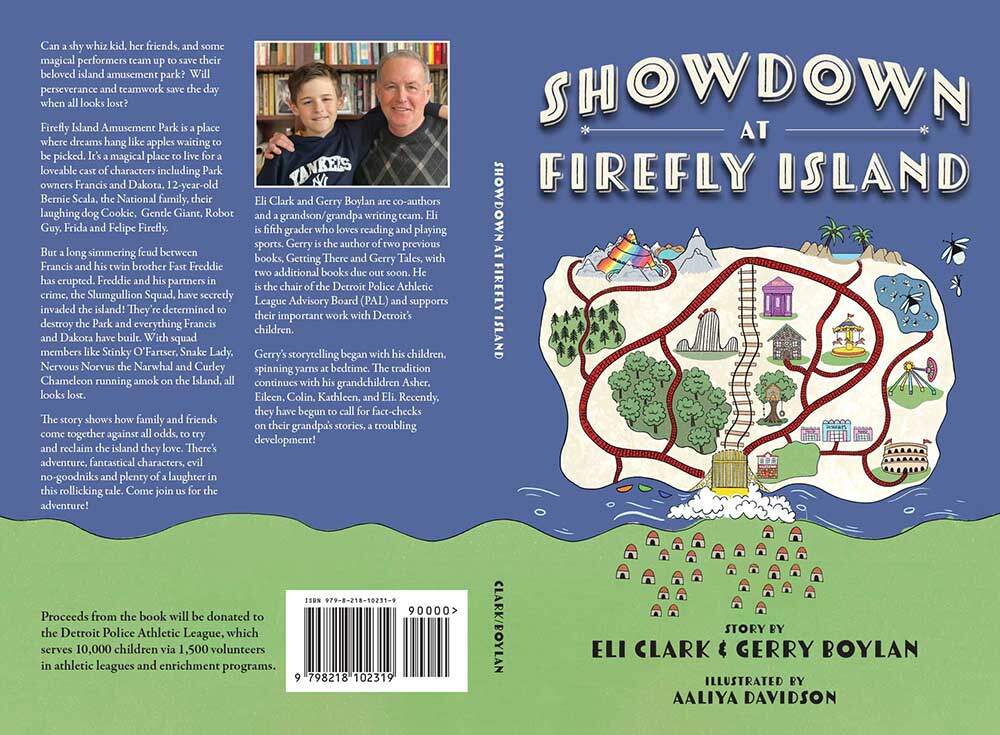 Description
Can a shy whiz kid, her friends, and some magical performers team up to save their island amusement park for all who love it? Will perseverance and teamwork save the day when all looks lost?
Firefly Island is a place where dreams hang like apples waiting to be picked. It's a wonderful place to live for a loveable cast of characters including: 12-year-old Bernie Scala, the National family, their laughing dog Cookie, park owners Frances and Dakota, Gentle Giant, Robot Guy, Frida and, Felipe Firefly. But a long-simmering feud between Frances and his twin brother Fast Freddie has erupted, and Frankie's gang, the Slumgullions Squad has secretly invaded the island. They're determined to destroy the amusement park and everything Francis and Dakota have built. With gang members like Stinky O'Fartser, Snake Lake, Nervous Norvus the Narwhal and, Curley Chameleon running amok on the Island, all looks lost…Read More HERE
Goal Setting     Resilience     Embracing A Healthy Lifestyle     Accountability     Teamwork